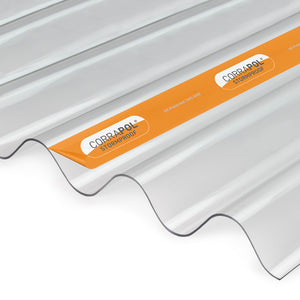 CORRAPOL Stormproof Sheets are the strongest and longest lasting sheet within the CORRAPOL range.
CORRAPOL Stormproof clear sheets are extruded from virtually unbreakable plastic resin which offers superior strength, excellent clarity and above all unrivalled weathering characteristics resulting in a very long life span.
This superior strength and longevity mean that CORRAPOL Stormproof clear sheets will not go yellow or brittle with age, and won't crack during installation like lower cost PVC options tend to.
CORRAPOL Stormproof clear sheets are made from resin which makes them 200 times stronger than glass of the same thickness which is generally considered to be virtually unbreakable and what we call 'Stormproof'.
The UV protection layer incorporated in to the manufacturing process of CORRAPOL Stormproof sheets mean they will provide superior light transmission for many years.
Common uses

Carports

Canopies
Cold Frames
Porches
Greenhouses
Covered Equestrian Areas