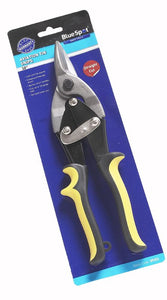 250mm Aviation Tin Snip is specially designed to cut through aluminium, sheet metal, leather, tiles, rubber and shingles.
Manufactured from drop forged carbon steel and heat-treated for increased durability.
Compound leverage for maximum cutting power. Serrated cutting jaws to prevent slips. Soft grip handles for increased comfort.
Lever lock for safe storage.
 
Specially designed to cut through aluminium, sheet metal, leather, tiles, rubber and shingles
Compound leverage for maximum cutting power
Lever lock for safe storage
Soft grip handles for increased comfort