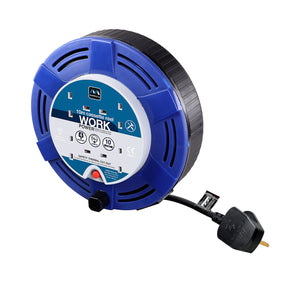 Providing work power for home, DIY and light commercial use. When you need an extension lead around the home or office, this compact cassette reel extension lead from Masterplug at Luceco is just perfect.
The sturdy yet light portable extension lead has a ten-metre cable, enabling you to use for home, office and even in the garden use.
Easy to store: As well as having safety socket shutters, the cassette cable reel has wall fixing capability on the back, allowing you to hang up for easy and convenient storage.
Drum wind knob: The drum winding knob for retracting the cable after use, making it easy to wind and unwind the cable, and to keep the cables tangle free.
Thermal cut out: Manufactured to BS EN 61242, the open cable reel has a thermal cut-out which prevents risk of fire due to temperature rise caused by power overload.